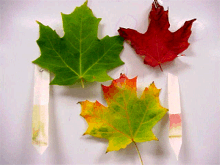 Monday, Oct. 28, is a Teacher Work Day, so school is out! Instead, come play and learn at the museum. We will be exploring science of the season, starting with learning why leaves change color. We'll do a chromatography experiment and check out some demonstrations to see just how that works.
Later, we'll dive into biology, looking at fall fruit. We will investigate pumpkins and apples. What is inside each of these fruits? What makes them different, and what is the same?
This full day program will run from 9:00-3:00 and is best for ages 4-8. We will provide a snack and kids should bring a packed lunch with them. Registration is required and the deadline will be Wednesday, Oct. 23. The cost is $60 for members and $70 for non-members. Call (434) 977-1025 to register today!